The Best Natural Digestive Detox for Stomach & Colon Cleanse
There's a saying that goes, "You are what you eat". If you're fond of eating chemical-packed processed food, sugar-filled drinks, and alcohol, then basically you are a walking toxins bin.
What happens when your body is stuffed with toxins? Well, that means your bodily functions aren't going to work well. Your insides will be inflamed, your immune system will be weak, and no matter what supplemental vitamins you're taking, your cells are too cramped with toxins that it'll be incapable of proper nutrient absorption.
Since our body's toxins population is highly affected by things we ingest, we should start cleaning our gut first. An unhealthy gut will bring about gastrointestinal issues like indigestion, acid reflux, bloating, and bowel movement problems like constipation. It can also acutely affect your mental and emotional state!
Don't want an unhealthy GI tract ruin your life? Save yourself the trouble! Get a stomach cleanse and a colon cleanse and sweep your bowels clean!
How to cleanse your stomach
You don't have to starve yourself for days in order to cleanse your stomach. However, if your eating habits resemble the one described earlier – basically a parade of chemicals disguised as food – you'd have to change it to something much cleaner.
At this stage, it's best to eat a lot of dietary fiber-rich food like green leafy vegetables. The roughage will help sweep out the bigger things stuck inside your digestive system. Elimination is, after all, one form of detoxification.
The stomach cleanse and colon cleanse come next. Roughage can only do so much. It simply acts as a giant broom, but it doesn't address the digestive issues caused by too much body toxins. Supplemental stomach cleanse and colon cleanse are necessary to get your digestive system back on track.
Doing it all at once is going to cause more harm than good. For the sake of your stomach, a milder transition will make the change smoother. What you can do is slowly cut out processed food and refined sugar from your diet. If you can, take it further and consume only fibrous fruits and vegetables for a couple of days to sweep your bowels clean. Then start with the digestive cleanse supplements like our Bio-gest, at the same time begin a clean diet of only whole foods.
Why cleansing your gut helps a healthy mind
When you're anxious about something, nervous before a presentation, or dreading your credit card bill, have you ever wondered why you get knots in your stomach? Similarly, when you're excited about going on a trip or anticipating something romantic, why do you get butterflies in your gut?
You may feel like you're going to throw up, or sometimes you get indigestion when eating before a big test or business meeting. If you think about it, the issue is all in your head. You're stressed about something. But why is it your stomach that's doing the flip-flop?
As with everything in your body, your brain and your digestive system are linked. Actually, these two share a stronger bond than other combinations. There's something called the gut-brain connection, and this is a two-way street with stress from the mind affecting your digestive functions or gut problems putting you in a foul mood.
This is why doing a colon cleanse and a stomach cleanse are necessary!
Why digestive cleanse via supplement is a good choice
Lots of natural stomach cleanse or colon cleanse hacks are touted online. Some of them actually work; others might worsen digestive issues you might already be having. If you don't want to expose yourself to the risks, digestive cleanse supplements are the best choice for detox cleansing.
Here are the reasons why you should use supplements as stomach cleanse and colon cleanse instead of DIY-ing everything:
Packed with essential components that will help with nutrient absorption
Can natural ingredients like fresh fruits and vegetables be used as an effective stomach cleanse? Yes. Can you colon cleanse by drinking fresh juices? Yes. But what this will do is simply flush away the remnants of things in your digestive tract. On the other hand, a supplement digestive cleanse has ingredients that enhance your digestion and metabolism. While juicing or fruit diets only treat the symptoms, colon cleanse and stomach cleanse supplements address the root of the problem at the same time.
Scientifically formulated – Balanced Ratio
Having high quality ingredients is one thing, but the ratio of ingredients is also important. Some elements will only be beneficial in a certain dosage. Others can only be absorbed by the body when combined with another element. Most common stomach cleanse diets or colon cleanse guides do not take this into consideration. With digestive cleanse supplements, you can rest assured that the ingredient ratio is optimized!
No more trial and error – Save time
Should this fruit be combined with that fruit to make this DIY cleanse more effective? Will these veggies do what I need them to do? Instead of stressing yourself out about these things, just grab a stomach cleanse supplement like Bio-gest! They're designed to address stomach and colon cleanse needs so you don't have to keep guessing.
Concentrated, so no need to eat too many different stuff to get the nutrients you need
While eating fresh produce is good, there are substances that only appear in traces in food form. That means you have to eat tons and tons of food to get a beneficial amount of that trace element. When you take a digestive cleanse supplement, you don't have to worry about this because the ingredients are concentrated and will be absorbed by your body.
Is Bio-gest a good way for colon cleansing and to remove body toxins?
As part of our 21 Day Body Cleanse Program, Bio-gest is an integral puzzle piece in this holistic system. It's the official stomach cleanse and colon cleanse of the group, and it does its part in removing body toxins.
We built our 21 Day full body detox system with the aim of addressing all aspects of being healthy. The components of this system work together to target specific problem areas. Our supplements take care of internal cleansing, while the free exercise videos, meal plan, fitness ebooks, and expert support are there to compliment the cleansing.
Just because you're undergoing a stomach cleanse, or a colon cleanse doesn't mean you'll automatically be healthy. If you retain your bad eating habits, if you don't work out and sweat, if you don't know how to stay motivated, cleansing will mean nothing. That's why we built this complete detox system.
In this system, Bio-gest functions as both stomach cleanse and colon cleanse. It's derived from natural ingredients. It contains all the essential components that helps improve digestion and metabolism. It also helps the body absorb nutrients so that we have good energy levels. Bio-gest doesn't only clean our gut, it helps our digestive system get function better. That's why Bio-gest isn't only a good colon cleanse and a toxin remover – it goes well beyond its job.
What does the Bio-gest Supplement do?
Bio-gest contains a host of digestive enzymes that support proper digestion, food metabolism, nutrient absorption, and promotes better bowel movement. By improving these functions, Bio-gest effectively cleanses the gastrointestinal (GI) tract.
Here are the main ingredients in this natural stomach cleanse:
HCl
Do you suffer from acid reflux, constipation, or feeling like something big is stuck in your stomach after eating meat? These digestive issues are the result of low HCl.
HCL facilitates absorption of various nutrients like ascorbic acid, iron, beta-carotene, magnesium, zinc, calcium, vitamin B12, etc. It's also responsible for breaking down food proteins to enable proper digestion.
If you love eating meat, HCl is highly needed. Otherwise, you'll experience something like acid reflux. The name suggest an overflow of stomach acid that's why it's coming back up your throat, but that's not the case. It's actually a lack of stomach acid that's delaying the digestion. The meat ends up sitting in your stomach for a long time, goes rancid, and that's the acidic feeling that goes back up your throat.
While HCl is an important component in a stomach cleanse and colon cleanse, by itself, it cannot guarantee proper digestion. HCl needs digestive enzymes to help it break down food. The following are said digestive enzymes.
Pepsin
Similar to HCl, pepsin breaks down protein into little bits and aids in nutrient absorption. There are medicine containing pepsin that are used to cure indigestion. It's produced in the stomach.
Ox Bile
Your body produces bile naturally. This is what breaks down fats as well as plays a part in the absorption of some vitamins, namely A, D, E, and K. Bile is secreted by the liver, kept in the gallbladder, and released in the small intestine whenever we eat.
However, if your natural detox pathways are compromised because of too much toxins in your body, your liver might not be producing enough bile. The ox bile component in Bio-gest helps make sure that there's enough bile for proper digestion to happen.
Pancreatin
Pancreatin contains chemicals that are necessary for proper digestion, such as lipase, amytase, and protease. It's used to treat flatulence and other digestive problems. When your natural detox pathways are clogged with toxins, it causes your body to be inflamed. This can cause your pan crease, which produces the digestive chemicals, to not work properly.
Pancreatin is there to cover for a lack of these chemicals until the pancreas can create adequate amounts. That's what makes pancreatin a necessary component in a good stomach cleanse and colon cleanse.
As you can see, Bio-gest contains all the essential components that make up a good stomach cleanse and colon cleanse. And as mentioned before, Bio-gest is a part of a holistic system that addresses all aspects of health.
To be able to enjoy the benefits of Bio-gest, get our 21 day full body detox program right now. Not only will you be able to minimize bloating and constipation, improve digestion, and cleanse your bowels, you'll also have more supplements fighting toxins in your body.
Along with Bio-gest, you'll also get LiverCleanse. This helps your liver, which is a major player in your body's natural detox system, get rid of toxins in it and function properly. Green Tea Phytosome contains powerful antioxidants that will bring down the inflammation in your body caused by toxins. MediClear is a liver detox shake that comes in both chocolate and vanilla flavors!
This detox system will not be complete without the 10 free exercise videos that will make you sweat out lots of toxins. We also included easy-to-make digital recipes to help you make a healthy meal plan. No more going back to haphazard eating!
You're also getting the e-books Three Minutes To A Strong Mind and Fit Body, which is endorsed by Mark Cuban, and A Woman's Guide to Preventing Heart Disease. And if that's not enough guidance, you can talk to experts made up of doctors and George's team 7 days a week!
Join the 100,000 customers we've helped get started on their change for the better. Take advantage of Bio-gest's cleansing power by getting it with the 21 Day full body detox cleanse program! Your healthy future can begin with just one click of a button, so what are you waiting for?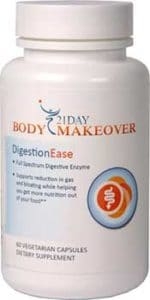 Product Description
This best digestive cleanse, Bio-Gest supplement is an ultimate blend of digestive enzymes like pepsin, HCL, ox bile and pancreatin that aid in improving the metabolism and gastrointestinal health as a natural body cleanser. Ox bile is specially included for fat emulsification. The pancreatin enzymes in this formulation are helpful to enhance the digestion and absorption of the essentials elements, so that there is the proper energy level in the body. Besides this, all the body cells will get the required nutrients for total body detox. The pepsin that has been encapsulated in this digestive detox cleanse supplement is pure and lactose-free. For cell growth, the Bio-Gest supplement works as a best digestive cleanse to improve the protein digestion.
Bio-Gest is ideally beneficial for individuals' digestive cleanse, especially who suffer from indigestion occasionally.

HCL facilitates absorption of various nutrients like ascorbic acid, iron, beta-carotine, magnesium, zinc, calcium, vitamin B12, etc.

This 21 day cleanse program provides support for carbohydrate & protein digestion.

It helps in normal bowel movements, bloating, gas and weight loss and reduce these things.

Best natural body cleanser supplement, DigestionEase also promotes digestion of fats, carbohydrates and proteins.

For better results, take one to two capsules of this digestive cleansing supplement with every meal or as per suggested by your health trainer.
Pancreatin (Porcine): 140 mg

Ox Bile concentrate: 80 mg

L-Glutamic Acid Hydrochloride: 480 mg

Betaine Hydrochloride: 480 mg

Other 21 day DigestionEase ingredients incorporate

Servings in each container of DigestionEase: 30

Derived out of a non-plant source, Betaine Hydrochloride is not diluted with the lactose. This Best Digestive Cleanse product should not be used by individuals having porcine allergies.